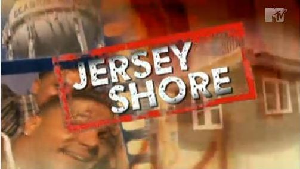 Jersey Shore
is a reality television series on MTV which follows eight housemates as they live, work and party in the Jersey Shore area. The first season of the show was filmed in August 2009 in a summer share house in Seaside Heights but was also filmed in other towns such as Toms River, Neptune and Atlantic City, New Jersey. The show debuted amid large amounts of controversy regarding the use of the terms "Guido/Guidette", portrayals of Italian-American stereotypes and was under scrutiny from locals because the cast members are not residents from the area.
On January 29, 2010, MTV announced that a second season of the series consisting of 12 episodes had been ordered and will air in the summer of 2010. MTV announced that the second season would follow all of the first season cast as they "escape the cold northeast and find themselves in a new destination." After the first half of season 2 was shot in the South Beach neighborhood of Miami Beach, Florida in May 2010, the cast relocated back to The Shore to film the rest of the season. It has been announced that a Season 4 will be filmed.On August 30, 2012, MTV announced that the series will be cancelled after 6 seasons, the sixth and final season airs October 4, 2012. The series finale ended on December 20, 2012 with the episode, The Icing on the Cake.
Cast
Current
Former
Angelina "Jolie" Pivarnick (In a relationship and has lost all respect from all the housemates from what she had done in the past, which they did not forgive her.)
Ad blocker interference detected!
Wikia is a free-to-use site that makes money from advertising. We have a modified experience for viewers using ad blockers

Wikia is not accessible if you've made further modifications. Remove the custom ad blocker rule(s) and the page will load as expected.