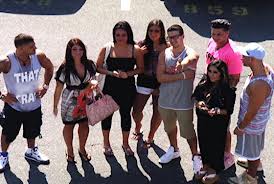 The Icing on the Cake is the series finale of Jersey Shore. The series finale premiered on December 20, 2012, after a week of a Jersey Shore marathon.
Premise
In the series finale, the roommates spend their final two days together by first, planning a bonfire on the beach their families. At the bonfire, Ron and Sam declare to their parents that they are moving in together, much to their parent's bargain, they are disappointed with the decision as they remind them of all of the fights. Pauly, Vinny, and Mike go to work at the Shore Store for one last time, this time Mike doesn't plan to work or sleep, causing Danny to get annoyed. Vinny and Mike decide to prank Ron and Sam by bringing their inflatable bed up to the roof, but accidentally pop it on the staircase. Upon finding out, Ronnie gets extremely mad and blames it on Sammi, causing to get another fight, and thus questioning their relationship. Sammi and Jenni bake cakes for Pauly and Mike's birthday, and even pick a cake up from Paula, which Mike and Pauly eat a piece of. The next day, the gang goes tanning and finds out that Paula had a man's testicles on the cake, even there is a picture to prove it. Mike calls Paula and she "pretends" she can't hear Mike as he gets furious, he throws and breaks the duck phone. On the last day at the Jersey Shore, the roommates look back at how the shore changed their lifes and they stand outside the shore house, they start crying and say goodbye, then they drive away after saying they will always be a family and friends. Then Danny puts up a "For Sale" sign on the house and then a memoriam for the Duck Phone is shown.
Ad blocker interference detected!
Wikia is a free-to-use site that makes money from advertising. We have a modified experience for viewers using ad blockers

Wikia is not accessible if you've made further modifications. Remove the custom ad blocker rule(s) and the page will load as expected.