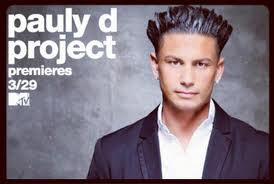 The Pauly D Project is a American reality television series on MTV. The aeries premiered on March 29, 2012. This is the first spin-off of Jersey Shore. The show stars Paul DelVecchio. The show's intro is "Night of my Life" by Pauly D featuring Dash.
Plot
The show revolves around Pauly D becoming a world class DJ, along with his friends from his hometown in Rhode Island.
Cast
Michael "Biggie" Morman
Gerald "Jerry" Gialanella
Ryan Labbe
Jason "JROC" Craig
Ad blocker interference detected!
Wikia is a free-to-use site that makes money from advertising. We have a modified experience for viewers using ad blockers

Wikia is not accessible if you've made further modifications. Remove the custom ad blocker rule(s) and the page will load as expected.